Filter Reviews
5 star rating

4 star rating

3 star rating

2 star rating

1 star rating
Amazing
Review by Austin F. on 28 May 2019
review stating Amazing
I purchased the performance sheets a few months back and fell I love. I knew I'd want the comforter and pillows at some point and sure glad I pulled the trigger. The softest most comfortable blankets, sheets, and pillows I've ever had.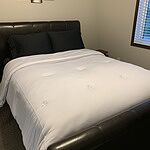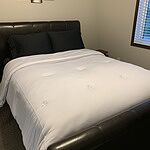 Excellent!
Review by Kelly A. on 30 Jun 2020
review stating Excellent!
I am a 54 yr old woman with night sweats. I was sleeping on an expensive wool topper with down comforter for heat regulation. Sheex down alternative comforter and performance sheets and far superior! Even when I get hot I am sleeping and quickly cool down. My husband is also sleeping sounder. Highly recommend!
Soft, warm, and breathable
Review by Leah R. on 30 Jun 2020
review stating Soft, warm, and breathable
The comforter is super soft, feels cloud like! It's very warm, but doesn't make me as sweaty as others have.
Brittany E.
5 star rating
Super great!
Review by Brittany E. on 25 Jun 2020
review stating Super great!
Super cozy and very comfortable. It is heavy which is really lovely.
A tad hot
Review by Carly M. on 23 Jun 2020
review stating A tad hot
My partner and I sleep hot, and although we LOVE the sheets and wanted to love the comforter, it's just a little too hot. It's very soft and cloud-like, however, so we're going to try the All-weather comforter to see if it's a little cooler.