Slideshow
Shop More Top Rated Products
Filter Reviews
5 star rating

4 star rating

3 star rating

2 star rating

1 star rating
Heavenly softness!
Review by Terry H. on 6 Jan 2020
review stating Heavenly softness!
Love our new set, very comfortable and super soft! Both my husband and I love it! And they don't run! I have two cats, I thought it may be a problem, but not at all!
I got the set with the comforter and it's perfect and truly no cover sheet needed!
They're very simple, so you may need to dress it up a bit! ;)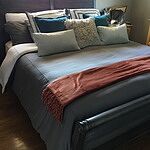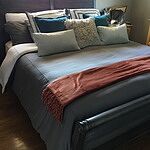 So soft
Review by Jeanine B. on 18 May 2020
review stating So soft
I really like these sheets, this is my second time purchasing them. The duvet cover is very nice. I think my only negative would be is I wish it had 6 ties, including the sides instead of just in the corners. Definitely recommend.
Studio tech is amazing!
Review by Tara W. on 14 May 2020
review stating Studio tech is amazing!
I purchased the studio tech and absolutely amazing and soft and comfortable! Easier for me to fall asleep in when I was having insomnia due to being hot and cold and anxiety attacks and these have helped me sleep more comfortably and kept me at a constant temp and I fall asleep shortly after I crawl into bed and dont get up once overnight like I used to! I highly recommend!!
Mystique J.
5 star rating
No buyer's remorse here...
Review by Mystique J. on 30 Apr 2020
review stating No buyer's remorse here...
They feel great, I don't wake up in a puddle of sweat and I sleep much better now that I'm cooler! Love these Sheex!!
Rosemarie F.
5 star rating
Best Sheets Ever
Review by Rosemarie F. on 29 Apr 2020
review stating Best Sheets Ever
The Sheex Studio bed sheet set is the most comfortable and softest sheets I've ever slept on. The double top sheet is an unbelievably great idea which eliminates the need for a blanket. I only wish I could purchase the flat double top sheet seperately since I already own four sets of Sheex's regular sheets. If it comes to pass, please let me know. Thank you for such a great product. Stay well, stay safe.
Q: Does the fitted sheet work with a 20" deep mattress?
A: Hello.
Yes! Our sheets are designed to fit up yo 20" in depth.

Thank you
Q: Will the studio tech bedding be available in a more diverse selection of colors anytime soon?
A: Hello.
At this time we do not have plans to add colors to our Studio Tech Collection.

Thank you
Q: Is duvet reversible? For example, can white side be on top and graphite face down?