Slideshow
Shop More Top Rated Products
Filter Reviews
5 star rating

4 star rating

3 star rating

2 star rating

1 star rating
Heavenly softness!
Review by Terry H. on 6 Jan 2020
review stating Heavenly softness!
Love our new set, very comfortable and super soft! Both my husband and I love it! And they don't run! I have two cats, I thought it may be a problem, but not at all!
I got the set with the comforter and it's perfect and truly no cover sheet needed!
They're very simple, so you may need to dress it up a bit! ;)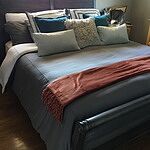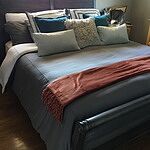 Great product
Review by Cara C. on 16 Feb 2020
review stating Great product
I think this product works great. We opted for just the duvet cover and fitted sheet set. What I did not realize though and only makes me slightly frustrated is that you would have to also purchase their duvet because it is definitely larger than any of the king sized duvets that I currently have. This is a unique size for sure. And as of right now I cannot bring myself to spend $400+ on a duvet just after spending the large amount we did for this set Therefore I do not feel I can appreciate the product completely but do not doubt the quality.
Excellent! 5 stars
Review by Rosana R. on 14 Feb 2020
review stating Excellent! 5 stars
Amazing product! We have been able to stop using sheet extenders to keep the sheet in place. Covers the bed beautifully and does not move. They are light, soft and ultra comfortable. Feels extremely luxurious! Will buy again
Sheex Studio Tech Bedding Set
Review by Jesse R. on 10 Feb 2020
review stating Sheex Studio Tech Bedding Set
I get hot when i sleep. This product is the best thing ever for me. I still don't understand how these sheets keep me cool at night. Unbelievable i love this product.
Love these sheets!
Review by Darren Y. on 8 Feb 2020
review stating Love these sheets!
Love these sheets!
Q: Does the fitted sheet work with a 20" deep mattress?
A: Hello.
Yes! Our sheets are designed to fit up yo 20" in depth.

Thank you
Q: Will the studio tech bedding be available in a more diverse selection of colors anytime soon?
A: Hello.
At this time we do not have plans to add colors to our Studio Tech Collection.

Thank you