Filter Reviews
5.0 star rating

4.0 star rating

3.0 star rating

2.0 star rating

1.0 star rating
Heavenly softness!
Review by Terry H. on 6 Jan 2020
review stating Heavenly softness!
Love our new set, very comfortable and super soft! Both my husband and I love it! And they don't run! I have two cats, I thought it may be a problem, but not at all!
I got the set with the comforter and it's perfect and truly no cover sheet needed!
They're very simple, so you may need to dress it up a bit! ;)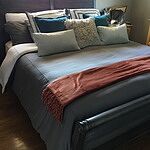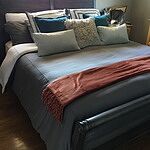 Rachel B.
4.0 star rating
As advertised
Review by Rachel B. on 24 Sep 2020
review stating As advertised
They are definitely moisture wicking, I woke up a bit sweaty only once in them so far (my ac is broken) and the sheets were completely dry. I agree with other reviews that they do catch on any dry skin you have but the rest of the properties of the sheets make it worth it. My duvet is a bit small for the cover but I think it's possible the duvet is the wrong size. It's so old I can't remember. I plan to replace it with a Sheex one though :) so I think it SHOILD fit perfectly then...? Overall satisfied and already ordered something more from the company.
Enhance the sleep experience
Review by Jason S. on 21 Sep 2020
review stating Enhance the sleep experience
Exactly what I wanted! Great weight, soft, and cool!
Comfy
Review by Judy K. on 14 Sep 2020
review stating Comfy
Sheets are comfortable but don't feel the cooling claim is accurate. Find myself sweating and sheets get a bit sticky.
Awesome sheets
Review by Steve F. on 9 Sep 2020
review stating Awesome sheets
These are amazing sheets. Very cool and comfortable.
Q: Does the fitted sheet work with a 20" deep mattress?
A: Hello.
Yes! Our sheets are designed to fit up yo 20" in depth.

Thank you
Q: Will the studio tech bedding be available in a more diverse selection of colors anytime soon?
A: Hello.
At this time we do not have plans to add colors to our Studio Tech Collection.

Thank you
Q: Is duvet reversible? For example, can white side be on top and graphite face down?
Q: Do any of your sheets have latex in them?
A: They do not have latex in the material