Filter Reviews
5.0 star rating

4.0 star rating

3.0 star rating

2.0 star rating

1.0 star rating
Comfortable
Review by Maria S. on 12 Feb 2019
review stating Comfortable
These sheets are comfortable. I was concerned once I opened the box and felt the sheets, they felt like tricot material. Reminded me of the sheets I had as a child in England. I washed them, and put them on the bed. Disappointment from the sheets is that the top sewn side panels, where they are sewn does not fit to the sides of the mattress, but the sheet does fit on the bed. The flat sheet gets in the way for me when sleeping, and ends up getting thrown off during the night, but keeping the duvet on me. Using my other sheets this does not happen. I am cooler, but its winter here, waiting to see what happens in the summer!
It would be nice if they were cheaper though.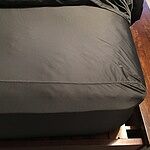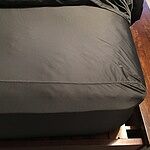 Comments by Store Owner on Review by Maria S. on 12 Feb 2019
Hi Maria, I am sorry they are not working out as you had hoped. Have you tried tucking the sheets under the mattress a little tighter so the seam falls on the edge?
Please contact us at
customerservice@sheex.com
Allison L.
5.0 star rating
1st time trying Sheex
Review by Allison L. on 5 Aug 2020
review stating 1st time trying Sheex
I enjoy my Sheex's set very comfortable!
Sheex Sheets
Review by Virgi P. on 3 Aug 2020
review stating Sheex Sheets
Love sleeping on these sheets. So soft! They are cooler than sleeping on regular cotton sheets.
Received as a gift
Review by Sas on 1 Aug 2020
review stating Received as a gift
Wow love these sheets they are so comfortable and soft and we stay cool all night! Love them!
Maxine C.
5.0 star rating
Perfect!
Review by Maxine C. on 25 Jul 2020
review stating Perfect!
They fit well and are super comfy. Stats cool all night.
Q: What material are they made with?
A: Hello.
We offer several different fabrics.
Please see below. Thank you

Original performance: 87% Polyester/ 13% Spandex
Experience: 86% Polyester/ 14% Spandex
Luxury Copper: 90% Polyester- Copper/ 10% Spandex
Arctic Aire Max: 100% Tencel
ECOSHEEX: 100% made from viscose Bamboo
Q: What is the depth the bottom sheet will go
A: Hello.
Our sheets are designed to fit up to 20" in depth.

Thank you
Q: Hello I have a queen sized mattress with a 4" memory foam topper. I'm wondering if the queen sized Sheex Experience set will fit my mattress, I'm not sure the 18" depth will completely cover the mattress + topper and fit all the way over the side and corners.
A: Hello.
Our sheets are designed to fit up to 20" in depth. They will not pop off the corners and they will stay in place throughout the night. Our fitted sheet has a thick elastic band around the entire fitted sheet that allows the sheet to stay in place and tight.

Thank you