Shop More Top Rated Products
Filter Reviews
5 star rating

4 star rating

3 star rating

2 star rating

1 star rating
Verified Reviewer
What is a
Verified Reviewer
A Verified Reviewer is a shopper who has confirmed an email address, or connected a social network with Yotpo, providing an added level of transparency and trust.
0 star rating
Amazingly soft sheets!
I normally would not spend a tremendous amount of money on sheets, but I had seen so many positive reviews of them, so I decided to purchase this set. They truly are unlike any sheet set I've ever had. They're extremely soft and so comfortable! It's hard to accurately describe how soft they are. They're by far the best sheet set I've owned. I'm very impressed!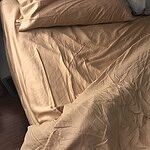 Better than expected
We have been searching for a good set of sheets for two years. We always had problems with them not being deep enough, and or tear easily. I heard great things about Bambo sheets, and though they are pricey, they are so soft and cool. We love them!!
Best Sheets Ever!!!
I will never buy another set of sheets ever. Sheex are the best around!!!
Out Of Stock!
I have been looking for King size Ecosheex for 2 weeks on here and there are non in stock, YET you advertise a big sale going on. I feel I should get a rain check for this sale! Why is a Company as large as Sheex out of stock? These sheets are also out of stock on Amazon also! I'm going to stop looking for these fairly soon, although I love the Ecosheex.
The Most Comfortable Sheets in the World
These sheets are like sleeping with nothing at all. They help control temperature and pull away moisture in the most humid summer nights. Highly recommended.