Shop More Top Rated Products
Filter Reviews
5 star rating

4 star rating

3 star rating

2 star rating

1 star rating
Just Amazing!!!
Review by Ann G. on 9 Jul 2019
The company that my husband works for has relocated us to the US Virgin Islands temporarily and the heat and humidity is unreal!!! We have problems sleeping at night with our "good" sheets from home (Texas) since we only have a small ac window unit in the bedroom. When I pulled these sheets out of the box last night, my immediate thought was that we were not going to like this type of fabric. Boy were we wrong!!! Absolutely love them! My husband and I both slept through the night for the first time in awhile! They are so soft and cool feeling❤️ I am ordering another set for my house in Texas!!!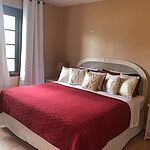 That bed looks great! So glad you're seeing the benefits of using SHEEX!
Best ever
Review by Sheri S. on 11 Nov 2019
I love how tight they fit on my mattress. No more wrinkles!!!! I love them!!!
Wonderful
Review by John R. on 11 Nov 2019
These sheets are very comfortable. I am very glad I purchased them.
Best sheets ever...truly wrinkle free,
Review by Rita G. on 11 Nov 2019
Best sheets ever...truly wrinkle free, soft, & cooling. Highly recommend
Comfort in the summer and in the winter
Review by Gail M. on 11 Nov 2019
'Put an end to over-heating and other sleep-disrupting temperature fluctuations and start getting the great night's sleep your body needs.'
We have the Original Sheets and Luxury Copper Sheets. The Copper sheets are our fav.



A plus... the sheets are very light and fold easily.
Q: I have a regular king. You show your size as king/cal king. There is a pretty significant difference. So do you offer a regular king size, separate from cal king?
A: Hello.
In our Original Performance sheets the king and california king are one size. They are interchangeable and designed to fit both size mattresses. The sheets have a generous stretch to the fabric that allows them to conform to both size mattresses and fit perfectly. Our fitted sheet also have a nice thick elastic band around the entire sheet that helps keep the sheet in place and lay nicely on the mattress.

Thank you
Q: We have two xl twin for a bed that raises is that what the split king is? Do you get a solid sheet and two fitted?
A: Hello
Yes! Our Split King Sheet Set includes (2) twin/twinXL fitted sheets, (1) king top sheet and (2) king pillowcases.

Thank you
Q: What are the measurements of the twin sheets for the split king set?
A: Hello.
Our twin/twinXL fitted sheet measure 39" W x 80" L X 14" D.
Our King flat sheet measures 108" W x 102" L

Thank you
Q: What is the thread count of the sheex? I recently got a set, have only slept on them 2 nights, and don't know how I feel about them yet....
A: Hello.
Our Original Performance sheets do not have a thread count. They are a knit.

Thank you
Q: Are these sheets benzoyol peroxide resistant?
A: Hello Jay.
No, our sheets are not benzoyol peroxide resistant.

Thank you